Adil is a character in Motherland: Fort Salem. He is portrayed by Tony Giroux.
Adil is a member of The Tarim. Khalida is his sister.
Adil comes to Fort Salem to seek the help and healing of the witches there for his sick sister, Khalida.
Adil seems disgusted with the military's actions and he seems resistant to help them at all, believing they are not using their powers for good. He and Abigail strike up a friendship, turned romance, but even Abigail can not convince Adil that they want to make a positive difference in the world. He reminds her that every time they use their powers to make tornados or wind or change the natural earth, they are creating a natural disaster in another part of the world.
Adil is of eurasian descent and has short brown hair.
Witch Physiology: As a witch, Adil is capable of affecting change by generating different sound frequencies with his voice. As a witch from the Tarim, he is very powerful.
Sensory Tracking: During a rescue mission in the Altai Mountains, Adil was able to locate where the Tarim were hiding.
Invisibility: Adil is able to become invisible at will through the use of a seed sound. He can make other people invisible with as he did with his sister when he traveled to Fort Salem.
Geokinesis: 

Adil used his unique songs to lower a wall of rock that was blocking him from the other Tarim.
Bilingual: Adil speaks fluent Méníshè as well as fluent English.
All that weather that you fight with has a cost....Every war people starve.

Adil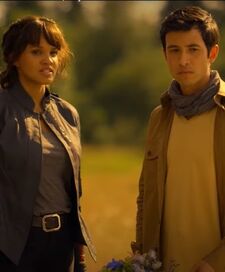 Community content is available under
CC-BY-SA
unless otherwise noted.